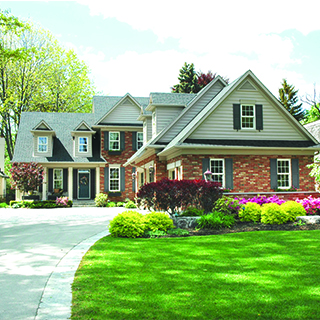 Landscape Design is What We Do!
Are you ready to roll up your sleeves and landscape your yard?
Do you need help designing and getting the correct plants in the right spots? Bordine's offers just the right service for the do-it-yourselfer who needs help planning their landscape. You, the customer, provide photos, measurements and any additional information. Then, our designer will hand draw a plan on graph paper that's easy for you to install your perfect landscape.
Design Services available at our
Rochester Hills & Clarkston locations:
BORDINE'S DESIGN SERVICE: Covers the front/side or back/side of your home.
$100 Design Fee with the purchase of a $300 Bordine gift card.
Total cost $400.00

* Design fee & gift card payable upon pick up of landscape design
* Gift card is valid for 5 years from date of purchase
The completed plan is generally ready in 2-3 weeks, although the spring rush may delay the process a bit. Our designer will contact you once the plan is completed and will meet with you either at the Rochester Hills or Clarkston location and review the completed plan with you.
Ready to get started?
Please contact karenm@bordines.com
Our Landscape Designer

Our designer Karen Meissnest graduated from Purdue University in West Lafayette, Indiana in 1981. She graduated with a bachelor of science in landscape architecture, after graduating she's worked for a wide variety of landscape companies as well as greenhouses in both Indiana and Michigan. Karen came to Bordine's in 1997 working in perennial and tree and shrub sales and for the last 15 years has been our landscape designer.

Please email our designer at karenm@bordines.com