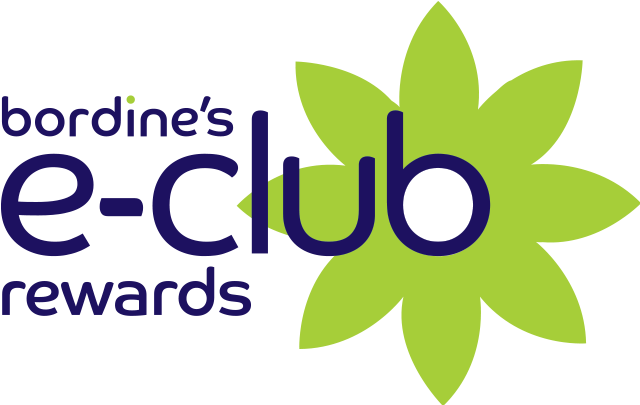 Sign-up Online!
Bordine's Rewards is a free club where you'll earn points whenever you shop. For every dollar you spend at Bordine's, you'll earn 2%. Reward bucks are given every quarter, that's 4 times a year! For every three month period you'll earn points towards your reward. At the beginning of each quarter we will e-mail you your reward bucks that you can spend however you want within that quarter. Plus, there's no limit to your earnings. Join now and start growing your rewards today!
Reward Bucks Earning Chart

Starts
January 1
April 1
July 1
October 1

Ends
March 31
June 30
September 30
December 31
Join Bordine's Rewards and harvest:
Earn 2% back on every purchase you make.
Earn & Redeem 4 times per year.
Exclusive sales, special offers and discounts.
Advance notification of our most popular sales and events.
Reward Members get exclusive benefits.
Earning Bordine's Rewards is fun, but even more valuable are the bonus offers, extra discounts and private invitations that we email only to e-club Members. We hope you'll join us!
We truly appreciate your privacy.
We promise we'll never share your email address, telephone number or information with anyone. If you ever decide you don't want the Bordine's Rewards emails you may opt out of the email list and still earn your Points.
Some Fine Print
Bordine's Rewards are earned on all purchases except sales tax, events, seminars, workshops and gift cards, however they are earned when redeeming gift cards.
The information we ask when joining is only to enable us to credit rewards to your account, and send you exclusive offers and discounts. We will not send out junk mail or spam. In fact, we promise to work hard to make every offer extra special. If you ever decide you only want Bordine's Rewards emails you may opt out of the email list.
Please, one e-club per household. Bordine's reserves the right to make future updates and modifications to the e-club. Some exclusions may apply.
Rewards may not be redeemed for cash, and cannot be used to pay sales tax. Bordine's Rewards may not be shared with other e-club Members.