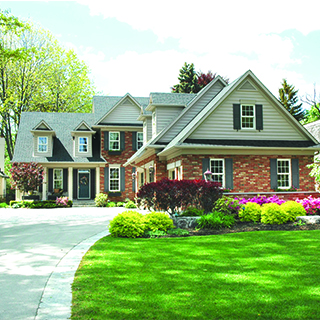 Our Landscape Designer is committed to creating personalized gardens and outdoor spaces. This affordable Landscape Design service provides creative, individualized solutions to your landscape challenges, suited to your climate, soil and site conditions. Today's investment in a planned landscape provides enjoyment for many years.
We seek to engage, to inspire, to educate and to foster pleasure in outdoor living spaces. Whether creating a new landscape or augmenting a foundation planting, our professional expertise will demystify the world of landscape design. The integration of technical expertise and inspired design with our customers' wishes and site conditions results in a landscape that is compatible with the architecture that surrounds it, "grounding" the built environment and creating a cohesive whole of home and garden.
A Bordine's designed landscape introduces our customers to new joys and wonders. We would love to have you experience the rewarding and emotional connection that comes from nurturing an outdoor space that is truly reflective of your personality and lifestyle.
Our Landscape Designer

Our designer Karen Meissnest graduated from Purdue University in West Lafayette, Indiana in 1981. She graduated with a bachelor of science in landscape architecture, after graduating she's worked for a wide variety of landscape companies as well as greenhouses in both Indiana and Michigan. Karen came to Bordine's in 1997 working in perennial and tree and shrub sales and for the last 15 years has been our landscape designer. 

Please call for an appointment for either services 248.625.9100 ext. 2240
or email our designer at karenm@bordines.com
Design Fees
Bordine's Professional Design Plan
Bring your "wish list"and accurate measurements into Bordine's, consult with our designer. By providing an accurate mortgage survey of your property, photos and some additional measurements, we will create a scaled landscape plan indicating all plants for easy reference. All consultations are scheduled and completed by appointment only. Bordine's Professional Design Plans are for the front and side yard OR and back and side yard. A scaled landscape drawing is yours to keep.
Design Fee: $50
with the purchase of a $300 Bordine Gift Card*
Bordine's no longer offers complete landscape installation or plant removal. We do, however, continue to offer Tree Plantings and Delivery Services (contact our Tree & Shrub department for details).
30-Minute Design Session
Do you need a little guidance with your landscape? Bring in two to three color pictures of your home and our designer will create a design for you. This design session is limited to 30 minutes and we can only
design a small area in this time frame. All 30-Minute Design Sessions are by appointment only.
Design Fee: $25
with the purchase of a $150 Bordine Gift Card*
Please call for an appointment for either services 248.625.9100 ext. 2240
or email our designer at karenm@bordines.com
Check list for your Bordine's Professional Design Plan Appointment:
A Mortgage Survey or measurements of your home are required
Photographs showing different views of your home
Which side of your house faces north…noting how the sun rises and sets around your home for sunlight conditions.
Bring in a "Wish List" of plants that you like as well as a list of colors that appeal to you.