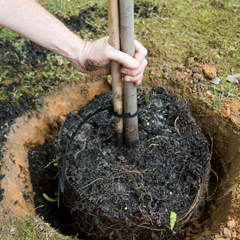 Bordine's planting service provides installation of trees and shrubs purchased from our Rochester Hills, Clarkston and Brighton locations. Our planting staff has the knowledge and the resources to make sure that your plants and trees are installed properly. Planting costs vary based on price and quantity of material to be planted.
In order to have your plant installed in the proper location, you will be given a flag(s) to mark your location. For your safety, Michigan law requires that all utility lines be flagged before beginning any excavation project. Bordine's requires the customer to contact Miss Dig at 811 or 1-800-482-7171 to process a request for utility lines to be flagged prior to the scheduled planting.
Bordine's reserves the right to refuse installation if a flagged area is in an unsafe or unsuitable area. We will work you to resolve any issues before proceeding with the installation.
Limited Warranties
We accept returns provided that you have YOUR ORIGINAL RECEIPT and plant (dead or alive), or other items (see full limited warranties). A valid home phone number & driver's license is required with all returns.