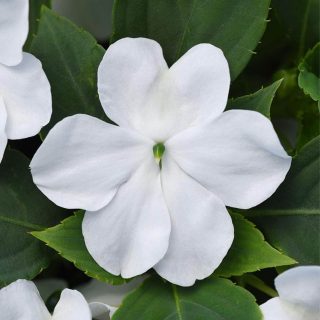 As you well know, Impatiens became the number one bedding plant back in the 80's for their beauty, easy maintenance and ability to grow in shade. Nothing has come close to their amazing garden performance. So it's time to try again, with resistant varieties!
After Impatiens Downy Mildew (IDM) ravaged the landscape in 2012, it hasn't been safe to plant Impatiens without the threat of them getting IDM. However, the Beacon Series of Impatiens has changed all that! The Beacon Series has a high resistance to Impatiens Downy Mildew and will thrive in containers or in the ground, even if it was once infected with IDM. Many Bordine employees trialed the Beacon Series in their home gardens during the summer of 2019 and the results were amazing! In one case, non-resistant and the new Beacons were planted in the same bed. The non-resistant Impatiens perished from IDM while the resistant plants thrived. Plants were full and lush, flowering all summer long! They are a great solution for adding color to those deep shade areas of the landscape and lend well to mass plantings.
The Beacon Series doesn't quite have all the colors and mixes we came to know and love, but there is a good assortment. Bordine's will be carrying the Beacon Series in 6 colors and 4 custom mixes in a flat of 45 plants in Spring 2020! For those colors that aren't available we will still be carrying the Xtreme Impatien varieties in jumbo 6pks. These varieties aren't resistant to IDM but when used in containers or hanging baskets with fresh soil, they should thrive most of the summer.
We're excited for you to start planning your flower beds with confidence!!